Ilha de São Miguel, Azores, Portugal
This week marks the official re-launch of one of the world's most intriguing and imaginative cultural gatherings: Tremor, the annual experimental arts festival held on the Azorean island of Ilha de São Miguel.
BY EMMA GREGG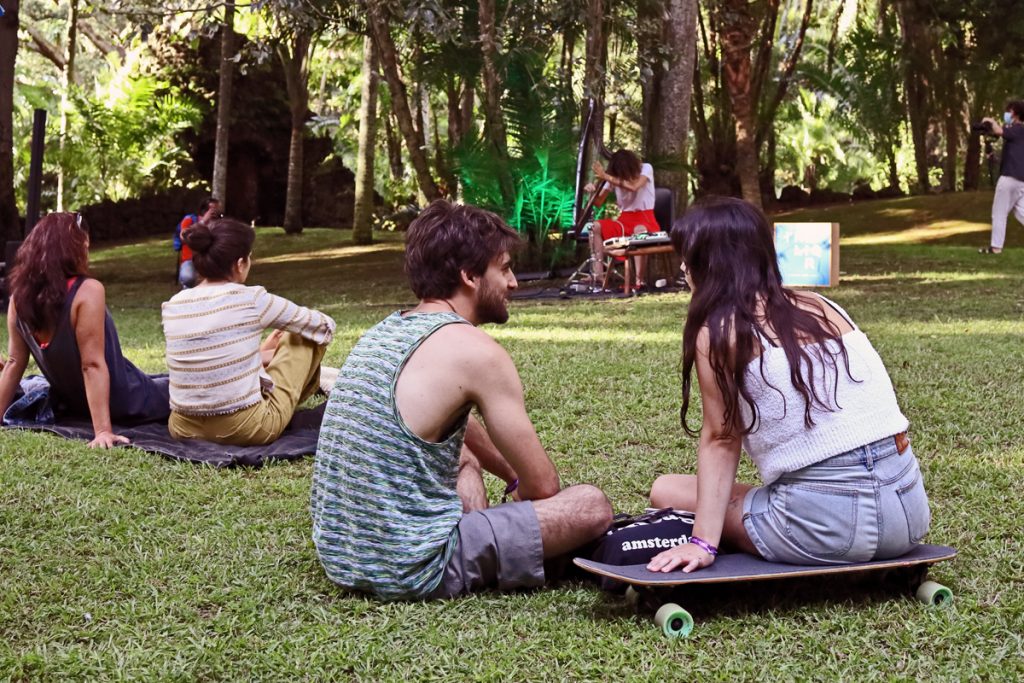 Don't blame yourself if you've never heard of Tremor. Simmering quietly in the background of Europe's festival scene since 2014, it remains a low-key, small-scale, five-day affair that's little known outside Portugal.
Nonetheless, it has always aimed to make waves. Named after the minor earthquakes that shake São Miguel from time to time – most recently, though distantly and harmlessly, in March 2022 – this is a festival that manages to be original and refreshingly intellectual without ever taking itself too seriously. In-the-know attendees have been clocking its stimulating mix of avant-garde gigs, nature walks and art experiences right from the start, and this year, its moment has quite definitely arrived.
If you're free this week and are looking for a last-minute lucky dip of a trip, take my advice: drop everything and hotfoot it to Ponta Delgada, São Miguel's likeable, raggedly beautiful capital, where the main events of Tremor 2022 are just about to unfold. Amazingly, there are still flights and festival passes (a snip at €60) available, and those with a Covid-19 vaccination or recovery certificate don't need a PCR.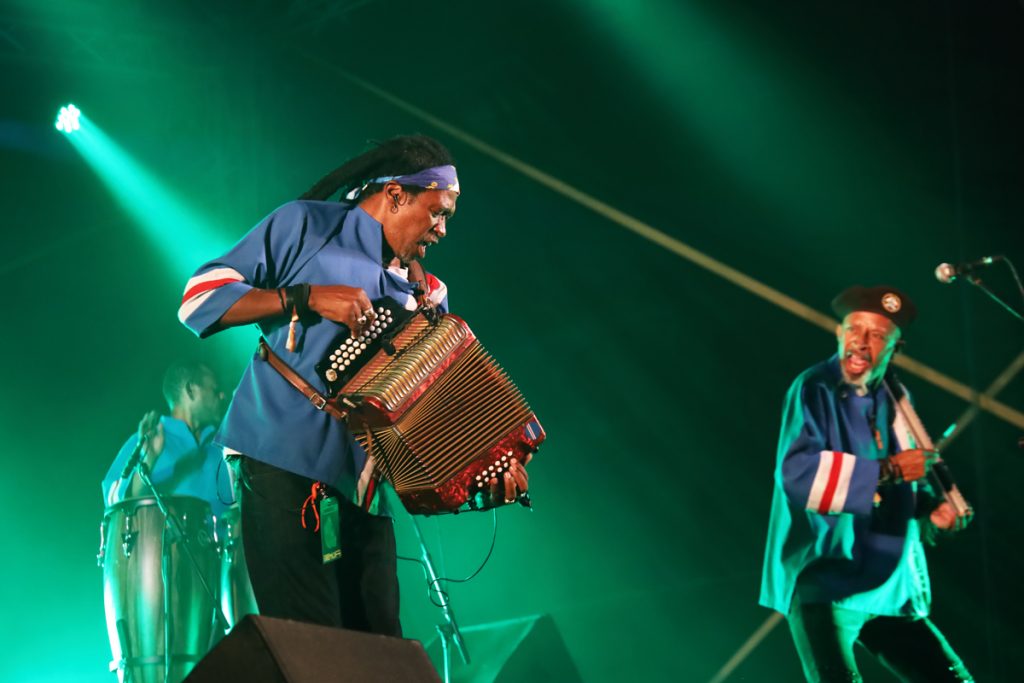 With serendipity and sustainability at its core, Tremor is a perfect fit for its green-thinking island home, and a welcome alternative to the hectic, hedonistic British and European music festivals that became the norm in the years before Covid hit. Held in April to help extend the Azorean tourist season, which peaks in July and August, and to avoid competing with the big European summer events for personnel and equipment hire, Tremor aims to be affordable and inspiring to residents and visitors alike.
"Instead of offering big-name, big-ego headline acts at inflated prices, at Tremor, curation is key. The programme brings together creative forces from different disciplines and backgrounds in unexpectedly interesting ways. One of its aims is to nurture emerging talent, particularly local artists that genuinely deserve a wider audience", says co-founder António Pedro Lopes. Currently, he's directing Ponta Delgada's bid to be European Capital of Culture 2027; as of 14 March 2022, it's on a shortlist of four.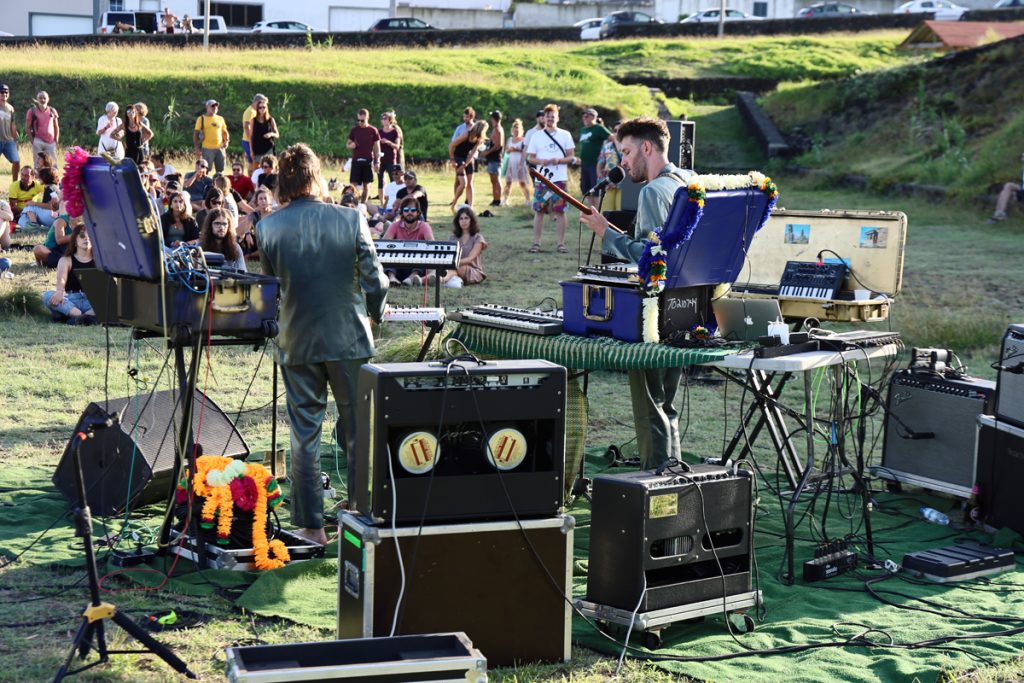 The curation-is-key formula produces compelling results, from a creative collaboration between Turkish singer Ece Canlı and Portugese transgender-activist DJ Odete, to a return of the Rabo de Peixe Music School, a knockout local youth orchestra that this year will be led by New York-based jazz trumpeter Peter Evans. Oh, and post-punk Londoners MadMadMad will be there too.
What's more, there are no litter-strewn mudbaths to contend with: instead of isolating itself in a single site, Tremor sprinkles concerts, exhibitions, talks and events all over the island, encouraging you to immerse yourself respectfully in the local community and embark on journeys of discovery. One day, you could be wandering along mosaic-paved streets to a graceful concert hall or gallery; another, you could be listening to an intimate recital in a botanical garden, or crossing the island to a boutique retro electronica dance party in a clifftop playing field. Between events, there are seafood restaurants, dolphin-watching trips and saltwater swimming spots to sample.
Attending in 2021, I arrived with few preconceptions, my fingers firmly crossed. Unusually, that edition took place in September, and while Covid-19 restrictions had begun to ease, fluctuating infection rates and regulations were still making overseas travel a gamble. "We were desperately anxious, right up to the last minute, in case our plans fell apart", said a fellow attendee, who had travelled to São Miguel from Spain. "So now we've made it, we're appreciating everything really intensely. Especially the feeling that there's no single path to follow. With so many short, overlapping events, we have to think about which ones to string together; it feels creative and spontaneous."
Time and time again, São Miguel's remarkable, monumental landscapes, sculpted by volcanoes, added depth to the experience. At a lakeside gig by Portuguese guitar band Solar Corona, a few of us stepped away from the stage and wandered along the shore, feeling like tiny figures on a prog rock album cover, while psychedelic chords twanged and reverberated all around. On another serene afternoon, we set off on an organised artistic treasure hunt, meandering along forest paths where large gongs had been hidden among the mighty trees, inviting anyone who stumbled upon them to play them.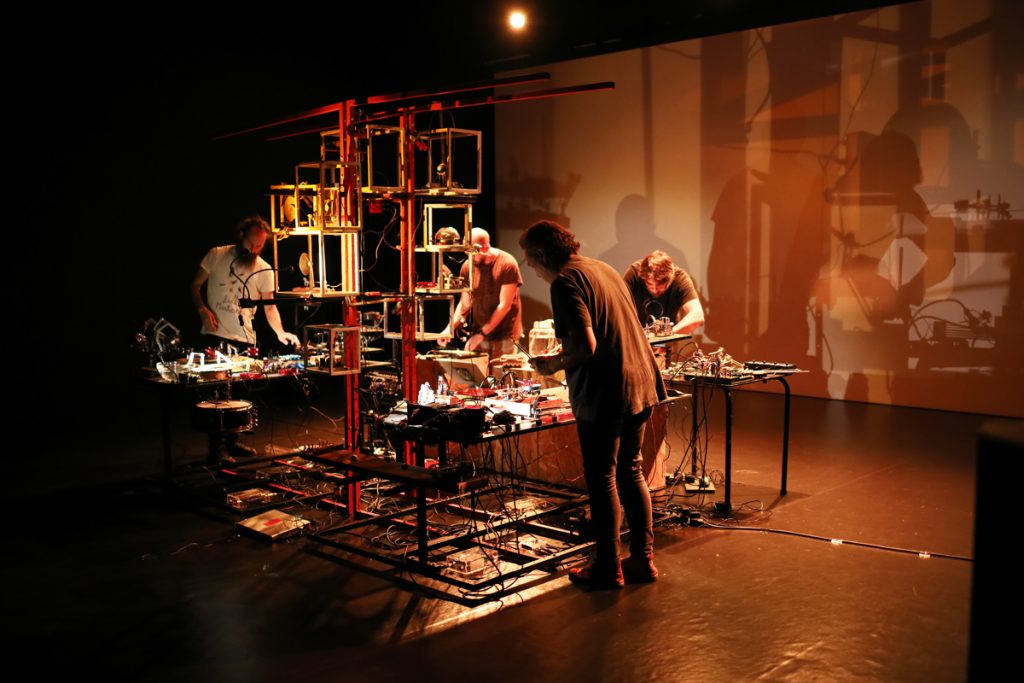 Admittedly, Tremor is not for absolutely everyone. Gently subversive, it expects quite a lot of its attendees. Keeping an eye out for on-the-day smartphone alerts, you need to be ready to hop on a bus without really knowing its destination, for example, since pop-up concerts in mystery locations are a Tremor hallmark.
You also need to prepare yourself for sun, wind, rain and even swirling mist, as many events take place outdoors. This is, after all, an Atlantic island, and there are good reasons why it's so luminously green.
Most importantly, perhaps, you need to be willing to take a chance on bands you barely know, if at all, singing in languages you don't understand or playing instruments you've never heard before, from clockwork percussion rigs to traditional Azorean violas da terra. Tremor is nothing if not eclectic, with the 2022 line-up including artists not only from the Azores and mainland Portugal but also from Kenya, Switzerland, Morocco and Syria, spanning hardcore punk, soulful Latin pop and futuristic folk. There will also be e-bike tours to a pre-recorded soundtrack, contemporary art in Ribeira Grande's starkly magnificent Arquipélago gallery and opportunities to learn about island life over homecooked meals in the north coast fishing village of Rabo de Peixe.
Last year, it was noticeable how many of the musicians and artists stayed to watch each others' acts. Some mingled with the crowd for all five days – a sure sign of an imaginative programme and an inclusive, appreciative atmosphere – and many were happy to chat. "For us, like you, being here is about discovery", said Dominican DJ and musician Kelman Duran. "I've been making new discoveries every day."
For me, it wasn't just the thrill of the new that held me. It was the joy of being among like-minded strangers once again. True to its name, Tremor woke me with a roar – and totally rocked my world.
PLAN YOUR TRIP
The 2022 edition of Tremor (tremor-pdl.com) takes place on the island of São Miguel in the Azores from Tuesday 5 April to Saturday 9 April. A pass for all five days costs €60 from BOL (bol.pt).
Highlights
Ribeira Grande, Thursday 7 April, 9.30pm–3am
Victoria Mercado Municipal, 9.30pm
Maria Reis Teatro Ribeiragrandense, 10.15pm
L'Eclair Coreto do Largo Gaspar Frutuoso, 11pm
Ece Canlı, Odete, DJ Danifox, DJ Firmeza Arquipélago – Centro de Artes Contemporâneas, 11.50pm
Ponta Delgada, Friday 8 April, 7pm–2am
Atlas São Miguel Teatro Micaelense, 7pm
Lyra Pramuk Auditório Luis de Camões, 8.15pm
Asism, Ondamarela, Coral de São José Igreja do Colégio, 9.30pm
We Sea Coliseu Micaelense, 11pm
Ponta Delgada, Saturday 9 April, 3pm–2.30am
Sessa Auditório Luis de Camões, 7pm
Atlas São Miguel Teatro Micaelense, 8pm
Taqbir Solar da Graça, 9pm
Rodrigo Amarante, Alabaster DePlume Coliseu Micaelense, 9.45pm
MadMadMad Garagem Antiga Varela, midnight
Catu Diosis, De Schuurman, Judgitzu Coliseu Micaelense, 1am
Events at secret locations
Terra Incógnita
Three different one-hour walking trails, with music, art and performance by various artists (Wed 6 Apr, 10am; Thu 7 Apr, 7pm; Fri 9 Apr, 10am).
Tremor Todo-o-Terreno
Tremor Off-road: urban cycling trail with recorded and live music by Puta da Silva (Wed 6, Thu 7 & Fri 8 Apr, 3pm).
Tremor na Estufa
Tremor in the Hothouse: surprise concerts in rural locations. Artists and venues announced on the day (Wed 6, Thu 7 & Fri 8 Apr, 6pm).
Tour Epicentro
Epicentre Tour: sculpture and nature trail, visiting installations in the island's Parques Florestais (Forest Parks). Transport by bus from Ponta Delgada costs €10 for the full day (Thu 7 Apr, 9am).
Receitas do Baú
Receipes from the Treasure Chest: traditional fare from Rabo de Peixe, served at a pop-up community kitchen (Wed 6 Apr, 7pm, from €6) or at home with local families (Wed 6 – Sat 9 Apr, 7pm, €30).
How to get there
Fly to Ponta Delgada João Paulo II Airport (PDL) on Ilha de São Miguel in the Azores. It's around six hours from London via Lisbon or Porto; there are several daily flights with Azores Airlines (azoresairlines.pt), Ryanair (ryanair.com) and TAP Portugal (flytap.com). Stay an extra week or two, and you could return to the UK direct: Ryanair flies nonstop from Ponta Delgada to London Stansted on Saturdays (flight time 4hr).
Azores Airlines also flies direct to Ponta Delgada from Boston (flight time 4hr 55min) and Toronto (5hr 45min).
How to get around
The festival provides return bus transfers from Ponta Delgada to the events in Ribeira Grande (€6) and the Tremor na Estufa concerts (€5). Wayzor (wayzor.pt) is offering Group C rental cars at the special rate of €25 per day in April 2022 when you book 2–6 days and quote TREMOR2022. Bike sharing and e-bike hire are available through Atlantic Bikes (atlantic-bikes.com). Futurismo (futurismo.pt) offers dolphin-watching boat trips.
Where to stay
Most events take place in or start from Ponta Delgada, so it makes sense to base yourself in town. Neat Hotel Avenida (bensaudehotels.com), a three-star hotel in a very central location, has sleek, contemporary rooms. Quinta do Bom Despacho (quintadobomdespacho.com), a homestay north of the centre, has historic character, a large kitchen garden and an eco-friendly vibe.
MAKING THE WORLD A BETTER PLACE
Sustainability and community wellbeing at the Tremor festival
Tremor's eco-conscious policies include encouraging walking, hiking and transport-sharing. It also requires its food stalls and bars to minimise waste by using compostable, recyclable or re-usable packaging, beakers and utensils.
Instead of corralling visitors in a field that doubles as a temporary campsite, with infrastructure, facilities and supplies brought in by vehicle, it uses existing performance spaces (some conventional, others upcycled or repurposed) in town and elsewhere, and suggests visitors book local accommodation in hotels, guesthouses or campsites. Between gigs and events, everyone is encouraged to make the most of the island's sights, activities and eating options.
The festival programme includes events designed to celebrate the island's natural and cultural heritage and empower the local community, including projects that directly benefit disadvantaged minorities.
Sustainable Azores
The Azores was the first archipelago in the world to be internationally certified as a sustainable destination by an entity accredited by the Global Council for Sustainable Tourism. It is aiming to raise its certification to EarthCheck Gold by 2024.
Forest parks and other protected areas make up almost 25% of the Azorean archipelago.
Further info: Açores Towards Sustainability (sustainable.azores.gov.pt)
---
All About Everywhere, April 2022
© Emma Gregg • all rights reserved